Iyanu Fatoba
It is no longer news that the devastating effects and economic shocks from the COVID-19 pandemic have negatively affected states' Internally Generated Revenue (IGR) and their share of federally collected revenue. For example, between 2014 and 2019, a few states saw some improvements in their IGR; however, these improvements were insufficient to emancipate the majority from their dependence on FAAC allocation. This also paints a bleak outlook as the COVID-19 pandemic resulted in dwindling revenues for the federal government due to falling oil prices, OPEC production cuts and other COVID-19 induced headwinds, thereby reducing the allocations that go to states.
The case was not any different in 2020. There was a 3.43% decline in states' internally generated revenue from N1.26tn in 2019 to N1.21tn in 2020. Only 18 states could grow their internally generated revenue to a fair amount, thereby surviving the financial crisis in 2020. What is more? There weren't many options for further borrowing at the subnational level due to federal government safeguards and debt ceilings to prevent states from slipping into a debt crisis.
There is no doubt that states need to do more to block revenue leakages, among other critical fiscal actions. However, more importantly, states need to harness investment opportunities and potentials to improve revenue, stimulate economic growth and build a fiscally resilient economy.
At BudgIT, we constantly partner with stakeholders and government institutions to co-create strategies and action plans to improve fiscal sustainability, open government, and improve citizens' welfare at the subnational level. These strategies include a deeper analysis of states' resources and identifying potential opportunities. On March 25, 2022, we signed one of such partnerships with the Nigerian Investment Promotion Commission to co-create and develop custom strategies that support willing states in Nigeria to harness their investment potentials, improve internally generated revenue and boost states' economic prosperity. Both parties signed this Memorandum of Understanding at the NIPC office in Abuja, in the presence of Mr Emeka Offor, the Ag Executive Secretary, NIPC; Mr Gabriel Okeowo, Country Director, BudgIT; Mrs Patience Okala, Director, Legal Services and Mr Iniobon Usen, Ag Head of Research and Policy Advisory, BudgIT.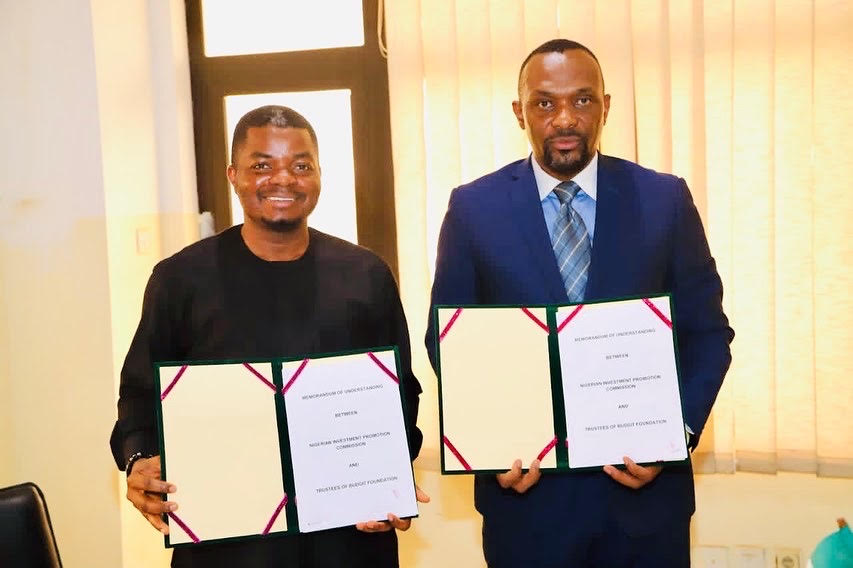 In his comment, BudgIT's Country Director, Mr Gabriel Okeowo, emphasised BudgIT's commitment to collaborating with the NIPC to support its work at the subnational level to develop further solutions that will improve states' IGR in line with NIPC's effort to drive significant attention to subnational investment opportunities in Nigeria. "To deepen this commitment, BudgIT will develop action plans for investment promotion in the states, conduct deep-dive research and policy analysis of each state's investment potential, employment capacity and opportunities for improved IGR, among others," Okeowo added.
While commenting on the partnership, Mr Emeka Offor noted that the commission would offer its support by facilitating consultative meetings with the Nigerian Governors Forum and state governments to secure the states' commitment to the project while supporting any linkage activities between BudgIT and the states.
"We consider the work we do with the subnational governments very important. There is no limit to the revenue states can amass when they are better equipped to leverage investment opportunities. We also plan to deepen their engagement level and the incentive they offer to new and existing investors to effectuate sustainable processes and reduce frictions between both parties". Offor added.
We believe that this partnership will foster sustainable actions toward economic growth and prosperity at the subnational level. Both parties also look forward to leveraging their State of States and Book of States research works on Nigerian states to highlight thematic areas for engaging the state governments on issues bothering their investment potentials and capacity.
For more updates on our activities, follow us on all social media platforms @budgitng